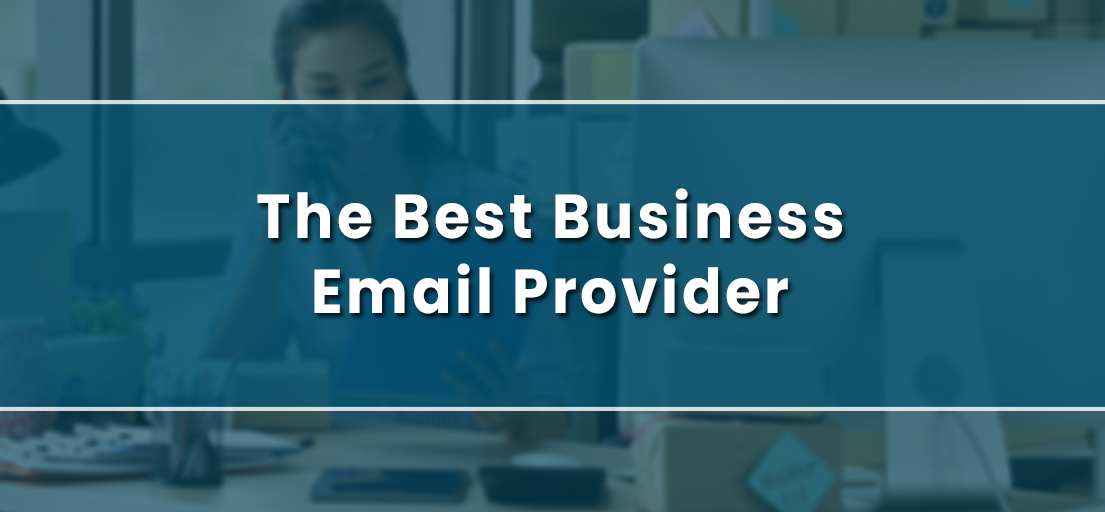 14 Mar

The best business email provider UK- A brief comparison
The best business email provider UK- a quick glance
If you are a business owner, you must know that email hosting is much similar to web hosting in different regards. You can easily get a hold on your account, sign up with the internet service provider, create an account on Google, and purchase your required web hosting account. However, the fact is, buying free or standard packages cannot deliver the same results as professional hosting services. However, when it comes to email hosting, people try to find the best business email provider UK to interact with their customers and vendor. Hence, the email shop can help you select some reliable services by making a brief comparison in services, features, pricing, and benefits offered by different professional companies.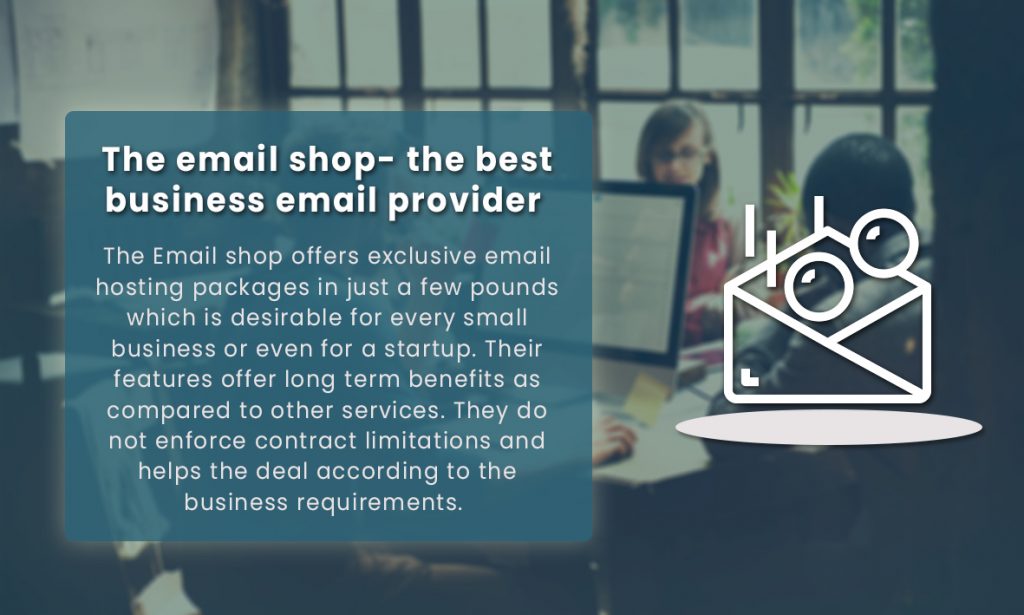 The email shop- the best business email provider UK
If you are running a small business with just several people, and do not want to spend hundreds of pounds on email hosting, then the email shop is probably the best option to consider among all. They offer you exclusive email hosting packages in just a few pounds which is desirable for every small business or even for a startup. Their features offer long term benefits as compared to other services. They do not enforce contract limitations and help you deal according to your business requirements.
For most business owners, security is the key concern; fortunately, the email shop is best in this regard too. The company takes security very seriously and follow several security measures to keep your confidential details safe and secure. You can choose from their three basic plans, which include email account, secure email servers, SSL/TLS encryption, unmetered bandwidth, webmail access, virus scan & spam filter and much more at affordable prices. That's the reason, they are considered as the best email service in the UK which offers everything according to your needs.
Rackspace email hosting- another best business email provider UK
Rackspace is another best business email service providers that offer a wealth of secure business-oriented products for potential email users.
They offer a lot of reliable hosting packages, along with the comfort of 25GB mailboxes, virus filters, spam filters, which is even accessible via webmail, Outlook, or even by multiple mobile users. Their mailboxes are available at $2.99 monthly, with just a minimum of 4. Moreover, they don't offer any long term contracts, you are just required to pay monthly bills and can cancel the subscription anytime you want.
Their next Plus account allows 30GB of cloud storage, with ActiveSync support, different user-friendly apps as well as the facility of instant messaging in just  $3.99 per month, which offers a great value as compared to other services in the US or UK.
They also feature an extended Plus account. This usually adds an unlimited storage space through archiving. That would be a reliable solution if you think 25GB inbox is smaller for your business needs. But the drawback is, we are quite uncertain that if it's worth the $6.99 costs.
Fasthosts email hosting- cheap business email
Email hosting always seems a bit expensive option in hosting types. The reason is, you can find a lot of big competitors in the market that comes up with the cheapest options and try to beat other services through their costs and features. Well, for large companies, it looks like the best option to avail of expensive services. But in the case of small businesses that do not have a bigger need, they shouldn't rely on those expensive providers.
When you talk about other details, you will find that signing up to Fasthosts can help you provide five Mail Lite accounts along with the comfort of 100MB inbox. You can also have the storage of 10MB attachments, 2 extra accounts with the support of 4GB inboxes as well as the attachment options of more than 15MB. The services give you access to webmail only, at the price of just £1.99 per month on their annual plan. Therefore, if the customers do not genuinely require gigabytes elsewhere, the basic package offered by Fasthosts is comparatively the best solution.
Office 365- the best-paid email service
Microsoft Office 365 is not only the most effective tool for productivity apps, but it also provides the most reliable and flexible email hosting package. They provide the lowest possible charges for email services, which probably make it the best choice among other paid services.
The services offer comprehensive support for managing more than 150MB attachments. For example, it's three times the exact size allowed with other paid competitors in the market. They offer 50GB storage every user which means you can simply keep the messages as long as you want, you will also have a 1TB of online storage space in the OneDrive account as well.
When you will get the access to office online, you can also get access to Microsoft Word, PowerPoint, Excel and OneNote documents from within the web browser. You can also enjoy the whole range of some extra tools as well, which include online conferencing, incredible search, conferencing solutions, and workflow automation, etc.
Therefore, if you are not using office 365 already, check out their feasible packages that start from $5 per month which offers great value to every small business owner. However, if you are only interested in their business-class email hosting solution, you can choose Microsoft's Exchange Online Plan 1. The package offers easy Exchange accounts at the price of $4 every user every month for an annual subscription.
Final thoughts:
There are a lot of trustworthy small business email hosting services out there, but the above-mentioned ones are one of the most reliable and affordable services for small to large companies relying on email services.
So if you are looking for some amazing features and benefits for your email needs, then it's better to scan the list once again and choose the best business email provider UK for excellent results and streamlined communication systems. The email shop is also recognized as one of the best email hosting services in the UK, which is tested and reviewed by a lot of companies. So whenever you feel stuck, compare the services and make a careful decision.