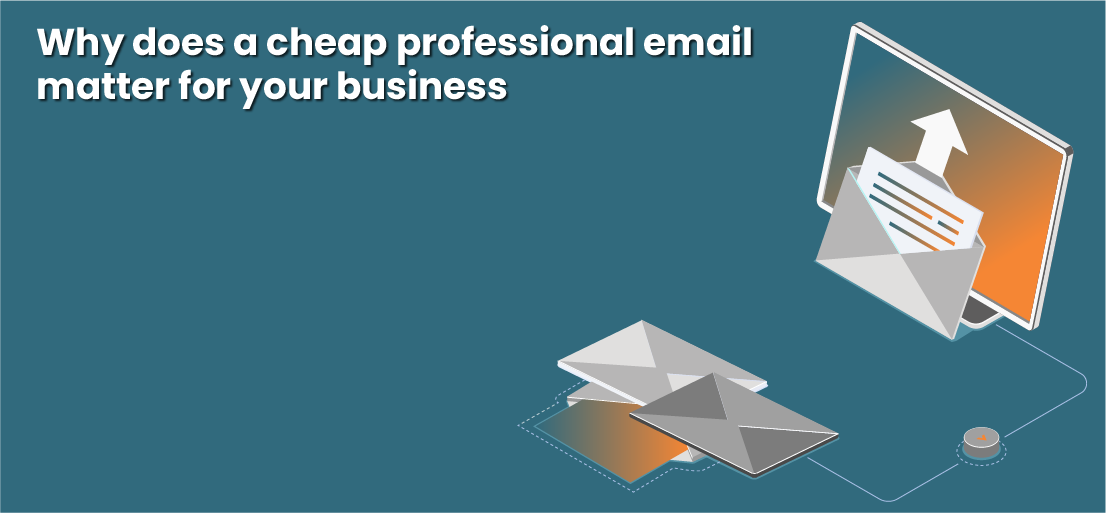 15 Jun

How cheap professional email is significant for your business?
Why does a cheap professional email matter for your business?
Can you believe that more than 80% of people prefer email communication with their clients today? In this ever-growing era of technology, some customers just pick up their cell phones to connect directly with companies without wasting time- they don't have patience or time in waiting for the response. But many people choose a professional medium. They just open their emails and prefer to send a quick message. But the question is, what email address has been provided by the company? Is that a simple Gmail or Hotmail ID which is common among the general public too? Or you are using a professional email ID that ends with your business name?
Well, just take an example. If you are sending an email from yourname@gmail.com then people wouldn't consider it much credit as there is no difference between your business and the common public. But when you send an email from yourname@yourbusinessname.com then many people would consider it professional and give more value to your message. Now that credibility and trust come with cheap professional email hosting that can help you increase confidence in your services and people prefer to deal with your business. To help you in this regard, the email shop comes up with the right email hosting solution so you can deal more professionally with your clients, vendors, partners, and suppliers.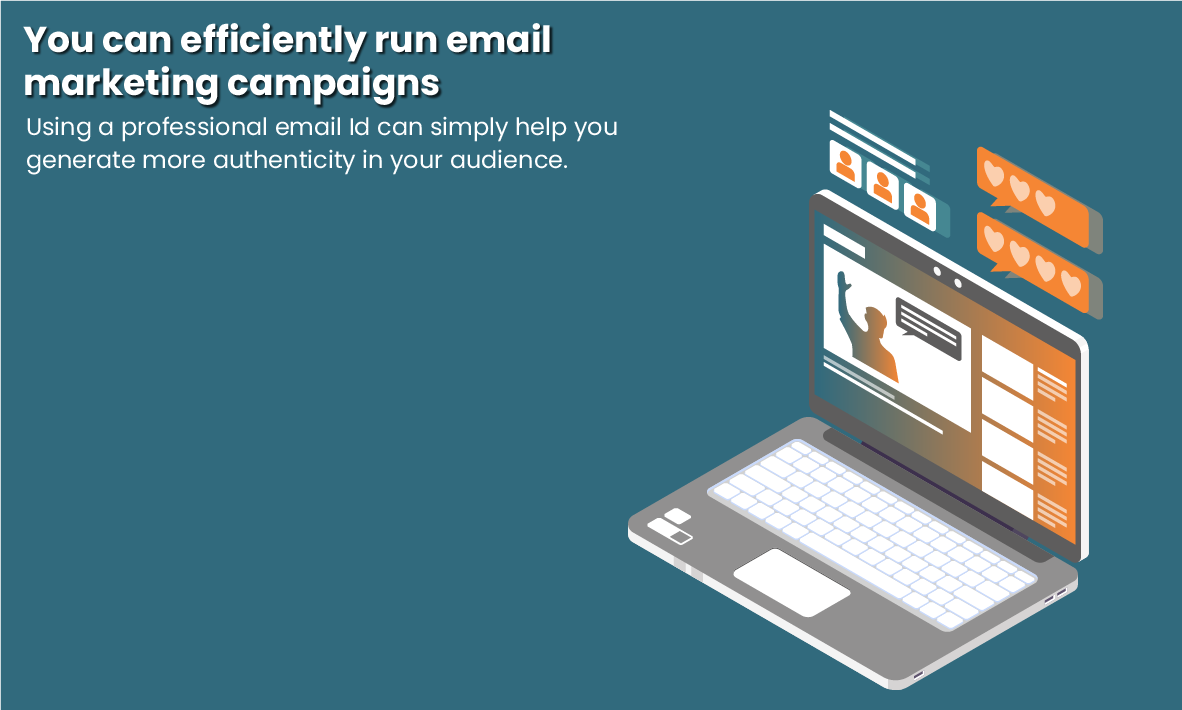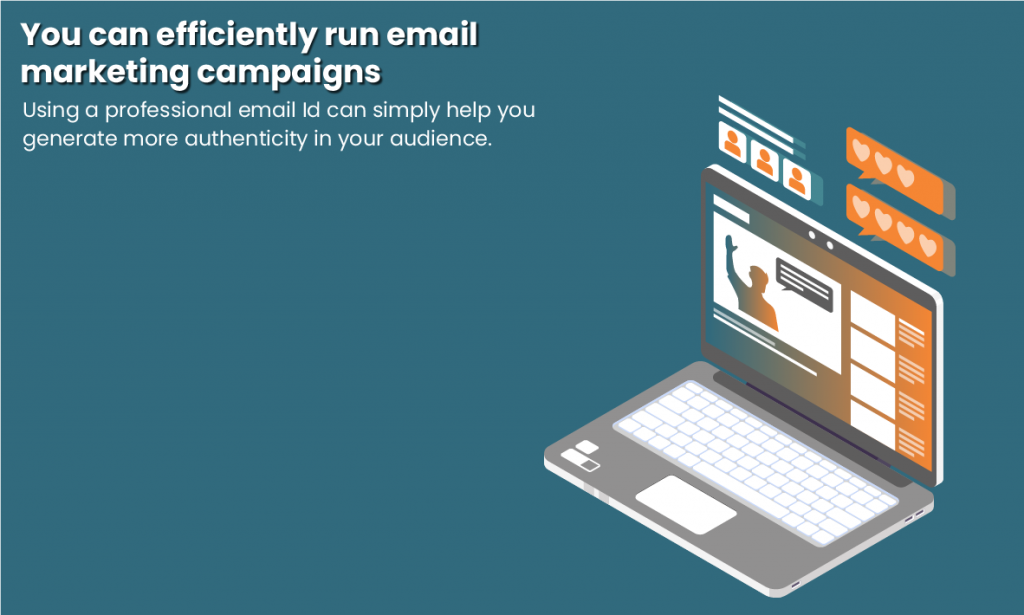 A cheap professional email is secure:
When you buy a business email for your company, you will have your own custom email ID. Now this email ID will be hosted by a reliable and reputable business that is also responsible to host your domain name which is directly linked to your custom ID. Just as your business site is properly secured by an SSL certificate and different security essentials, your email ID is also secured by implementing multiple security measures. All the confidential information that will be sent through your email will be completely safe and encrypted. Now, this is mainly important to ensure that all your personal and professional information submitted by the client through email is completely secure, and will never be shared or distributed by scammers and hackers.
A cheap professional email is completely customizable:
When you are relying on personal email hosting services, you are free to use a custom email address. You can make anything you want it to be. Now depending on the size & requirement of your business, you might need multiple email addresses that can accommodate various employees or positions. For example in an IT company, there are several departments, so you need each email for every department. Their common email addresses could be:
Digitalmarketing@itfirm.com
reception@itfirm.com
officemanager@itfirm.com
developers@itfirm.com
hr@itfirm.com
When you will have such specific email IDs, you can easily organize and structure your business. You will not be wasting any more time in shuffling through multiple appointment requests, while your office manager is sitting blank with no inbox. With custom email, you would be able to delegate all the incoming emails to the most suitable employee. This would also increase your work efficiency and speed to complete all the tasks. The moment you have wasted previously in replying to all those emails can be easily spent in accomplishing new tasks and projects.
People are likely to remember to professional email ID:
Your loyal customers' are already visiting your website now and then, they know your website domain name and can find it without any difficulty. Likewise, they would remember your business email because it's the same as your website name. So instead of using a standard email like supportbusinessname@yahoo.com, you can consider using support@mybusinessname.com. Now the more your customers will send emails to this domain, the more your brand will be engraved in their minds and they will easily remember the address without getting confused. It means you are creating a great brand resonance that would help your customers to engage efficiently anytime, anywhere.
You are not advertising for other businesses through your own domain name:
Using your own email ID for marketing and promotions is the best idea especially if you have products and services used on massive levels. Therefore, relying on your own email id is the best thing, as using any generic email that ends on @gmail.com, @yahoo.com or @hotmail.com would simply affect the reputation of your business. You are just advertising for those companies and not highlighting your own services through email. You are sharing half of your success with those companies, and you may even lose the battle of brand recognition when the customer has no proper medium to communicate. That's why small business email hosting can help a lot in bringing valuable changes as you can easily advertise through your company email for your business.
You can efficiently run email marketing campaigns:
If you are running email marketing campaigns for your small business promotion, then I am sure the last place you would land on Junk and spam the folder because all the contacts won't be able to see the email due to its authenticity. Therefore, using a professional email Id can simply help you generate more authenticity in your audience. This email id can simply help you land on the customer's main inbox, and he might read and understand everything you are conveying.
Conclusion:
Email is now becoming the most reliable and efficient medium of communication for businesses. They can professionally interact with as many people as they want. Especially it's extremely helpful for new and small businesses who have just launched their services, they need for validity and boost that can help their brand grow in a short time.
With such an efficient medium, business owners can easily target a relevant audience and promote their products weekly or on a daily basis through email marketing campaigns. So if you are a small business, it's time to consider cheap professional email so you can start communicating with your customers in a more meaningful way. Moreover, you can also approach the email shop experts, they can assist you a lot in email hosting and domain management solutions. If you need more help, you can visit their official website or social media pages.