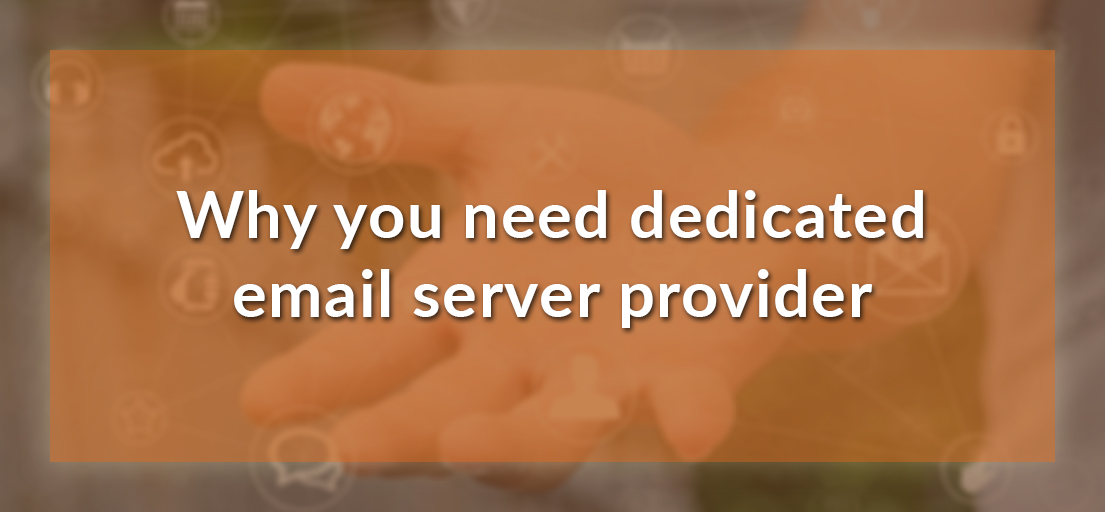 15 Jan

Why You Need Dedicated Email Server Provider
The dedicated email server hosting for bulk mailing
Dedicated Email Server:
Email providers like google and yahoo are typically associated with laymen, in terms of free storage. However when it comes to a large company or a business. Our requirements in term of mailing turns different.
There are many hosting service providers with the advantage of professional email services.
Professional hosting services of emails are usually indicated that emails are managed by dedicated servers or separate servers.
Why do you need dedicated email hosting?
When I use the term professional email hosting, I'm really referring to using a custom domain for your emails. There are many reasons for this, ranging from professionalism to data security.
From a business perspective, the costs are not prohibitive and the benefits far outweigh these costs.
Dedicated email server: why turn to a specialist?
If more and more professionals are setting up a website to boost their activity, many do not yet see the point of opting for dedicated messaging. However, specialized services display some advantages that not all web hosts offer.
What good is it to offer the services of a dedicated email server hosting when the majority of web hosts do so in the vast majority of cases for free with their offers? This is the question that certain structures may ask themselves.
The answer is simple: web hosting companies only offer email hosting as a bonus service with limited functionality and very often with a technical quality that leaves something to be desired.
Most of the time it is a simple mail server on shared servers while on the other hand, we can find some serious players in the field which offer anti-ransomware or MaillnBlack filters in particular, but these two companies do not host emails and just filter them.
Some do offer a paid offer but this can cause problems for example in terms of data confidentiality which is not guaranteed, without forgetting the communities and public bodies which could hardly host their sensitive data. We would rather tend to favor the email shop, which publishes the Powermail solution, which is one of the rare French companies to specialize in email hosting with a high availability infrastructure and proprietary technology. The company offers mailbox hosting (POP / IMAP / SMTP and MX) with a set of ancillary services such as automatic spam filtering, options for sharing contacts and calendars, SMS alerts, email management. Sending faxes, recommended e-mails, managing the sending of large files, but also accessing mailboxes from a PC or smartphone with ease.
Power mail has a redundant infrastructure entirely dedicated to email hosting, which allows it to offer increased performance and limit hardware and software failures. In addition, the storage of data is located in the UK and not abroad, away from prying eyes. The price for hosting emails is also particularly attractive and very accessible to modest structures, all the more reason to consider entrusting this task to a dedicated email server UK specialist in the field.
Advantages of the dedicated email server:
Flexibility and control: With a dedicated email server, you fully control its environment. You can install all the tools, scripts and applications you need.
Security: Being the only user of the server, the risks of being hacked or hacked are much lower than with a shared server.
Stability: You benefit from the best performance since you are the only one to use the server resources. With a dedicated server, no bad surprise in the event of a sharp increase in traffic to one of your sites.
Disadvantages of the dedicated email server:
The main disadvantage of a dedicated server is obviously its price. Performance comes at a cost, and dedicated email servers are expensive (several hundred pounds per month). For sites with high traffic or for large companies, the choice of the dedicated server is indisputable, but for smaller companies not having to bear too much traffic on their website, the interest of an investment must be carefully considered because it is not necessarily necessary.
In conclusion, the dedicated server is mainly intended for large companies, high traffic websites, and professionals with advanced technical skills. It is the ideal solution to fully administer your server. The private virtual server allows beginners to get used to the fully autonomous operation of a dedicated email server. It represents a good compromise between a shared server and a dedicated server when the performance of shared hosting becomes too limited for a website, without having to pay the high price of dedicated hosting.
Services:
Protection should be the basic key factor before choosing any dedicated email server. By using our SMTP services, you protect your site against blacklisting.
Our interface is intuitive and it is therefore easy to manage your shipments.
Our SMTP servers reach 99% deliverability thanks to their optimization.
If you choose load balancing servers, you can request server unlocking and send unlimited.
Each server has its own domain name, you choose it during installation.
Support open 7 days a week and with competent and specialized advisers. Maintenance of SMTP servers, handling of tools, etc. . . .
To Conclude:
Best dedicated email server hosting service? Not all web hosting companies offer dedicated email hosting plans, but as an example, you'll find clear examples of a good address dedicated email hosting service.
You are now able to create your mailing-list on your shared hosting with the email shop. The mailing-list allows you to send an email to all the email addresses subscribed to your mailing list.