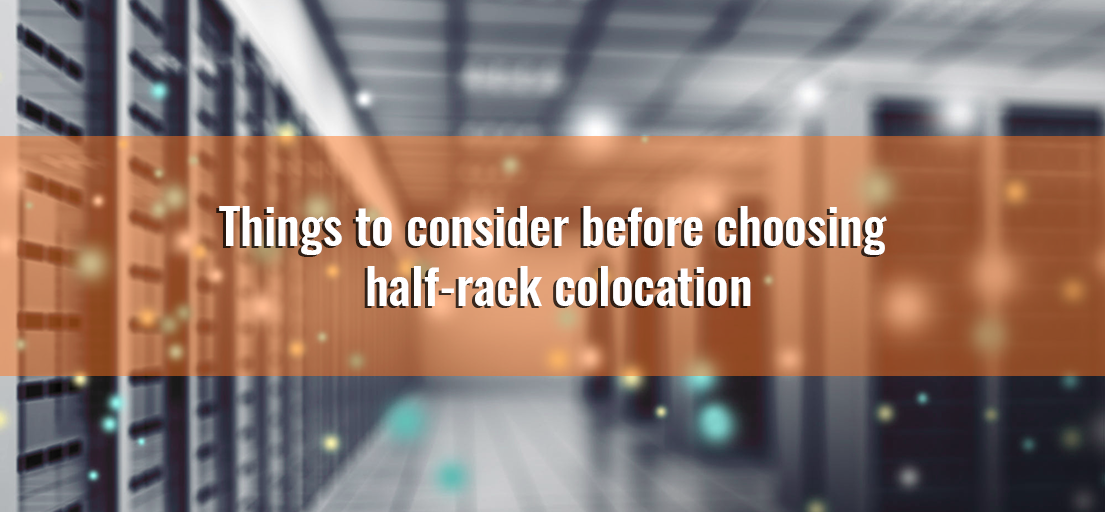 28 Nov

What are the Pros and Cons of Half Rack colocation?
Things to consider before choosing half-rack colocation
If you are a small business and looking to outsource half-rack colocation solutions, then you may find plenty of choices. But to choose the best one according to your needs and budget is probably a difficult thing that needs enough consideration. Because colocation service providers can offer different spaces from 1U, 2U, half-rack, full racks, and private cages. So, businesses may feel confused when it comes to choosing between the half rack and full rack colocation. However, if you are a small business, then half-rack colocation is a better choice for you which are also recommended by Server colocation experts in the UK.

If you are considering half-rack colocation solutions, then keep in mind that these are approximately 20-22U of colocation space; which might prove good to your server hosting needs.
Have a look at some necessary pros and cons of half-rack colocation and make the right choice accordingly.
Pros of half-rack colocation:
There are many advantages to choosing half-rack colocation, some of them are mentioned below"
If you compare half-rack colocation with a full rack, you may find that half rack colocation is a quite cheap option. Their prices vary. It also depends upon the colocation service provider as well as the geographic location of the data center, most of the pricing starts from £18- £58 per month. Half rack colocation also includes 15 or 20amp 110v power feed that is ideal for your servers. Additional power could also be available by paying some extra money. Most of the service providers would also provide 1 or 2Mbps burstable to 100Mbps. You can find different plans and packages according to your budget and needs.
Many colocation service providers offer half racks for lockable servers. So, if you are dealing with security threats or extra conscious about your privacy and data solutions, then choosing a half-rack colocation is a good option for you; because in this way, only you will be authorized to access the physical location of your server.
Since half-rack colocation is a highly scalable & flexible solution, so you may have a chance to create some pre-existing scheme if the need for expansion arises. This would immediately lead to some significant cost savings. As we know that small and medium scale businesses do not typically require large data systems; so these solutions would turn out to be a much feasible option that comes along with some appropriate features which would be suitable according to the business requirements.
Cons of half-rack colocation:
High costs in different states:
As we have mentioned earlier that costs are reasonable for half-rack colocation. But sometimes businesses have to experience higher costs in different states because they have different demands and requirements according to the latest trends. As compared to full rack colocation, the half rack is considered to be a better choice because of varied costs and packages.
Half rack colocation usually lacks efficiency as compared to a quarter or full rack colocation. Half racks are also quite adequate for businesses which are not planning to add some more equipment down the road. Therefore, if you want to add more equipment in the future, then it's better to take a hard look at full rack solution, so in the future, you don't need to migrate the new equipment to some other part of the data center.
Final thoughts:
You need to consider plenty of things when it comes to choosing half-rack colocation. So, make sure you understand your business needs, growth and infrastructure solutions. If you are enjoying geographic flexibility, take a look and shop around, make comparison and check reviews of different service providers. After careful analysis, make the right choice and plan things according to your needs and budget. That's the reason, choosing Server Colocation for half-rack solutions is the best choice as the company can provide great guidance about everything you are looking in terms of data hosting and security.