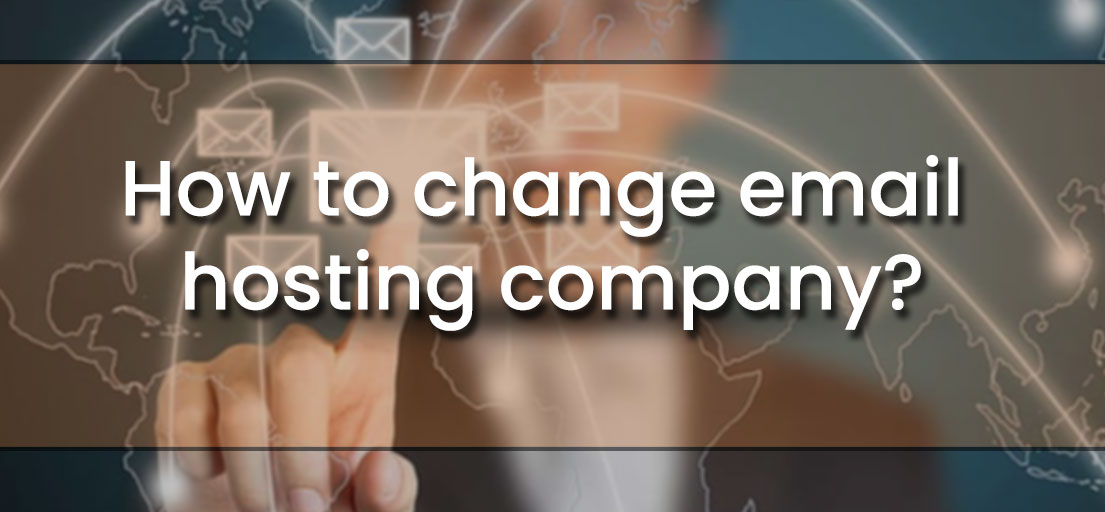 04 Dec

How to change email hosting company?
Change your email service provider easily.
Switching to the new email hosting company requires the completion of multiple actions that will help you make sure that everything would be transferred properly. There are also some individuals and business owners that change their service providers every year. But this is a wrong technique to follow because you have to face different challenges every time you change the email hosting company. Because changing email providers mean you have to mess with DNS domain name server experts who are required to change your user-friendly email address to Internet protocol address which is a quite difficult process unless you are DNS guru.
When you are changing the email hosting company in UK, you need to go to their website, or wherever you are registered with your domain name, then make changes according to the requirement where your computer will go to convert the email address ending in such domain dame to that IP addresses.
Many users feel confused when it comes to changing their email hosting company because they are unaware of the latest changes and several other difficulties that may come across their way.
However, it's not that simple for every common user so in case if they want to change their hosting company, they need to follow the below-mentioned steps:
Decide your service provider:
First of all, it's important to decide on your service provider. Make a list of providers, compare the features & price plans, check out their positive reviews, and different elements that distinguish them from one another. Once you make a plan about how to change the email hosting company, it gets easy for you to take further decisions. For example, if you have decided to choose a server collocation company for email hosting solutions, you need to follow these guidelines.
Other than that, you are also required to look into several other factors such as website ranking, location of their company, hosting packages and plans, ratings of the old customers, social media channel engagements, and checking out the number of customers who are actually satisfied from the services.
Provide email account and password:
After deciding on your service providers, you need to provide the details about your email account and the password.
Send IP address:
After sending email account details, you need to send the IP address that appears on the web page. (Company will usually list this in their server firewall that may avoid some potential blocking issues if the email software starts giving multiple kinds of connection errors)
POP3 mail protocol:
Another important step is to make sure that your email accounts are using the POP3 mail protocol before switching to the new email hosting company.
Slow email receiving:
After considering the above-mentioned steps, when you are anticipating to have your emails slow down (like if you are closed on Saturday & Sunday, it's better to make the change on Friday late afternoon), you need to follow these steps:
Sign in to the domain registrar and switch to the DNS, the company also provide settings for your server
You can also provide the company with complete access to the domain registrar, and then the company can change the settings for you and make adjustments accordingly.
Wait up to 48 hours
Once the changes made, and new settings are saved with your registrar, then you are expected to wait for more than 48 hours so that the changes can make a full impact on the settings; if all the settings are correct like email and password changes, then all the emails would function like normal
Due to any reason, if your email software shows you multiple errors and you see the changing when you come back to work on Monday, then you may want to change all the email settings, and in some cases, you would be required to delete and then restart your account.
During your DNS switch transition moments, you can also expect your emails to filter into the account generally. Sometimes, users also experience certain email delays (for instance, an email was sent to you Sunday night and doesn't appear till Monday morning) then this is quite normal. And that's the reason we recommend users to make required changes over a few days where they are not anxiously awaiting their mails during all the business hours.
Fire up the email client:
After that, it's recommended to fire up the e-mail client and then hit send to download all the existing messages from the old and new email servers. Then replace your IP addresses of POP3/IMAP & SMTP servers along with some easy names you have received from the new email hosting company. They could also be similar to your old easy names, like mail.yourname.com, emailshop.yourname.com, gridhost.yourname.com
Test:
After that press the 'test' button to ensure everything is working well.
Delete old account:
After following the above-mentioned steps carefully, you are required to delete your old account and only work for the new email hosting.
In the end, congratulate yourself as you are successfully done with the whole process.
After following the above-mentioned steps, you can simply change your email hosting company and can make sure that all the things will be streamlined according to the requirements. Moreover, you will also witness streamlined operations that will guarantee the best results and no delayed replies.