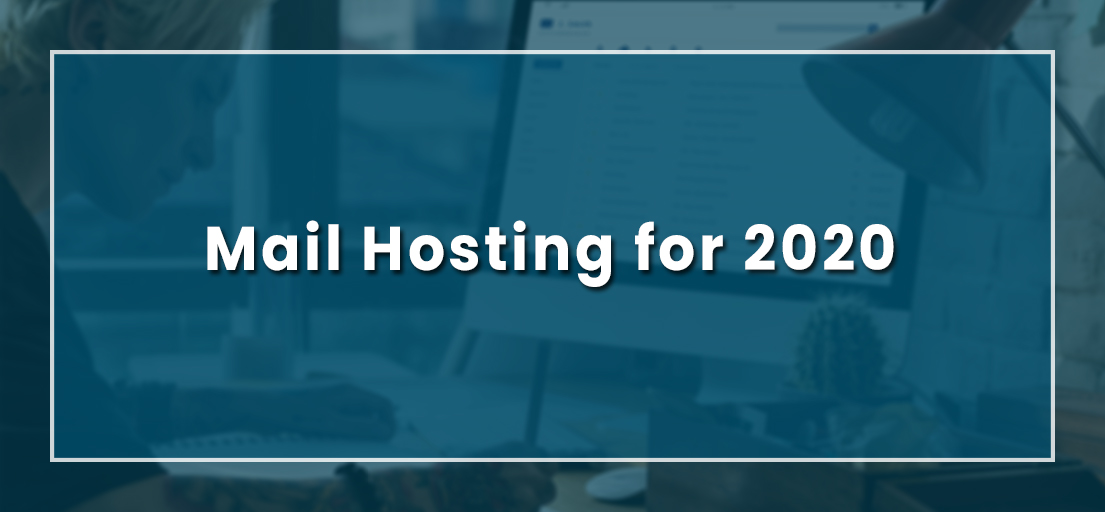 20 Mar

Top mail hosting solutions for small businesses
Mail hosting for 2020- Our top 2 picks
When you start a new business, you must want to leverage the power of the internet to make the work easy and to interact effectively with employees, staff members, and vendors. That's the reason for finding the top mail hosting provider should be your first concern as it deserves your close attention like no other thing.
So when it comes to making a decision between choosing free or paid service providers, you often get stuck. Because free services are better for your personal use, but in the case of your business, it's best to consider the most robust and efficient solution like the email shop in the UK which is tested and reviewed by thousands of business owners.
Combining web and mail hosting solutions:
Another significant service you should consider choosing for your business is web hosting. The reliability, efficiency, and speed of your website would probably increase sales conversions and user engagement, so it's better to not neglect this area as well.
There are a lot of web hosting companies that offer reliable packages and provide both email and web hosting services. One option is to consider purchasing the combination deals so you can take better care of both the solutions conveniently. You can get both web and email hosting separately; however, you may have to face some disadvantages as well.
Affordable mail hosting solutions for your business:
There are a lot of best choices available in the market for small business email hosting solutions. You can choose from the free options that provide some limited performance, limited features, minimum data, and security protection. That's the reason, business owners do not prefer choosing free solutions as they are motivated to expand their business in the future and it looks less reliable option as compared to a professional solution.
Who is the best email hosting service?
Whichever of these two organizations you choose to fulfill your mail hosting needs for your business, you will be making a good choice. The companies are best known for their price, integrity, efficiency, and integrity, so it's unlikely that you go wrong with these below choices.
The email shop- the mail hosting service
If you are looking for a secure email hosting solutions, then the email shop is one of the best choices to consider for your business needs. The company offers three hosting plans that cover all significant needs. Their plans offer multiple email accounts handling, domain-based email system, SSL/TLS encryption, auto-configuration, unmetered bandwidth, webmail access, multi-email client integration, virus scan filtering, and 24 hours support and availability.
Our plus and premium packages come with 25 GB and 50 GB storage respectively. They also incorporate special kinds of spam filtering solutions that keep you safe from different errors and malicious emails while allowing important messages to pass through easily without being unaffected. The system specifically targets spam, phishing attempts, viruses, malware, and different unwanted content. The services can allegedly provide protection against harmful email attacks that you have never experienced before. The services also claim 99.9% uptime guarantees, which make it the most ideal choice for every business owner.
Their basic package also provides guaranteed support and protection but may lack different advanced features such as enough storage space, and access to handling limited email accounts. So whether you want a secure communication channel for your personal or business needs, the email shop is your way to go.
The company also offers advanced customer support, which includes support tickets, email support, telephone, and live chat. Their customer support quality is matchless and priceless. To have more ideas about their system, you can also visit their knowledge base for all the answers you are looking for.
Grid hosting- best email hosting for small business UK
Grid hosting offers four email hosting plans that cover different features for your small business needs. Their packages include domain-based email, unlimited device support, efficient space, unmetered bandwidth, IMAP, POP3, and SMTP support, 24 hours availability, virus scan solutions, and private secure email servers. Their packages start from £0.40 to £3.50 after 80% off. By choosing their services, you can take the benefits of hosting several personal domains, protection of business emails, blocking of malicious activities, syncing across multiple devices and email client software.
You can communicate with their customer support team 24/7 via live chat, email support, and internal ticketing setup. The company has highly trained and efficient customer support engineers and possess specialized knowledge and expertise to handle technical aspects. Their response times may vary, but you can expect a reply within 24 hours of your request.
For people who like to do their research and want to implement solutions by themselves, Grid hosting offers comprehensive support so you can manage things on your own in an easy manner. Like most of the people focus to discuss topics, how to create our new email account, how to set up third-party email clients, how to attempt email forwarding and use autoresponders. Other than these, you can ask different questions that can help you make the business smoothly and efficiently.
Conclusion:
Email is one of the most crucial communications tool setup to handle modern age interactions.  You cannot afford to run your business without implementing advanced email communication. So instead of taking a chance to choose untested, or free email hosting solutions, you need to put your business in the hands of our two recommended mail hosting providers that can help you deal with everything you are looking for. They are the popular organizations in the UK that have been in the business for 14 years and have a solid reputation in the market. That's why many businesses tend to rely on these services, especially the email shop has won the trust of millions of customers since inception. So if you are in need of reliable, flexible and scalable email hosting then it's better to rely on the above services that provide guaranteed results according to your expectations.