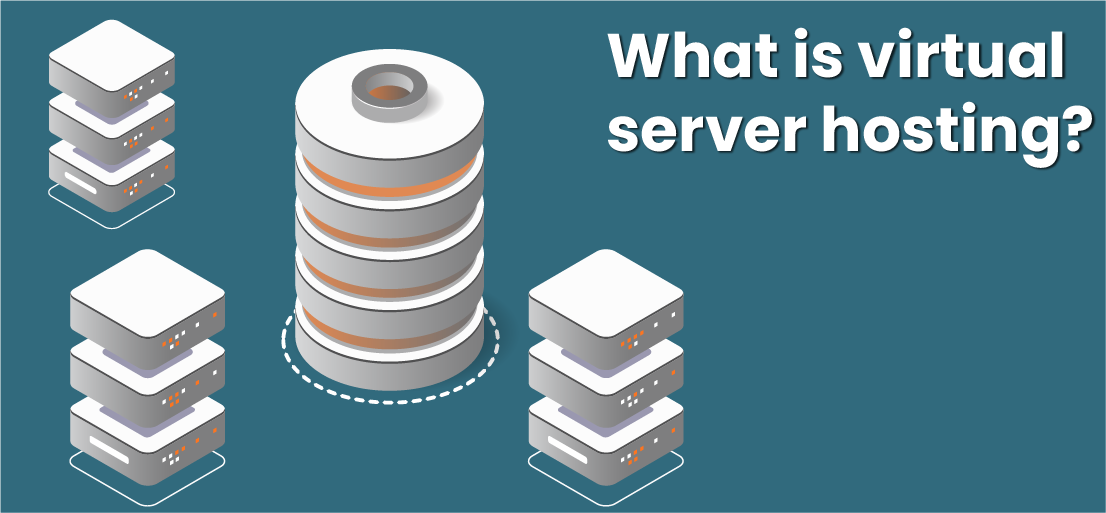 29 Jun

All you need to know about virtual server hosting
What is virtual server hosting?
VPS stands for a virtual private server, which is one of the most reliable hosting services to consider for managing websites. This hosting type specifically uses advanced virtualization techniques that offer you dedicated resources on the server with different other people. Virtual server hosting appears to be more secure as well as a stable solution as compared to other hosting types. In this solution, you cannot enjoy an entirely dedicated server space. But it's quite a small scale and inexpensive than other hosting solutions.
VPS hosting is always considered by different business owners that have a medium- type website and hosting less than huge traffic. Their audience is comparatively larger so they need a specific kind of hosting for managing their customer's needs. To deal with it successfully, the email shop comes with a variety of hosting plans that help you accomplish your business needs. Have a look at the detailed guide on VPS hosting.
How does virtual server hosting work?
If you are a new business owner, you need to start from the beginning. So let's analyze from the term 'server'. The server is basically a normal computer on which every web hosting expert saves all the files, information, details, and databases required for managing your site. So whenever the visitor accesses the site, their browser simply sends a request to the server which then delivers all the important files using the internet. Companies also launch VPS hosting machine which is mainly called a VPS server and responsible to simulate a random physical server. Hence, this VPS machine is shared among multiple users.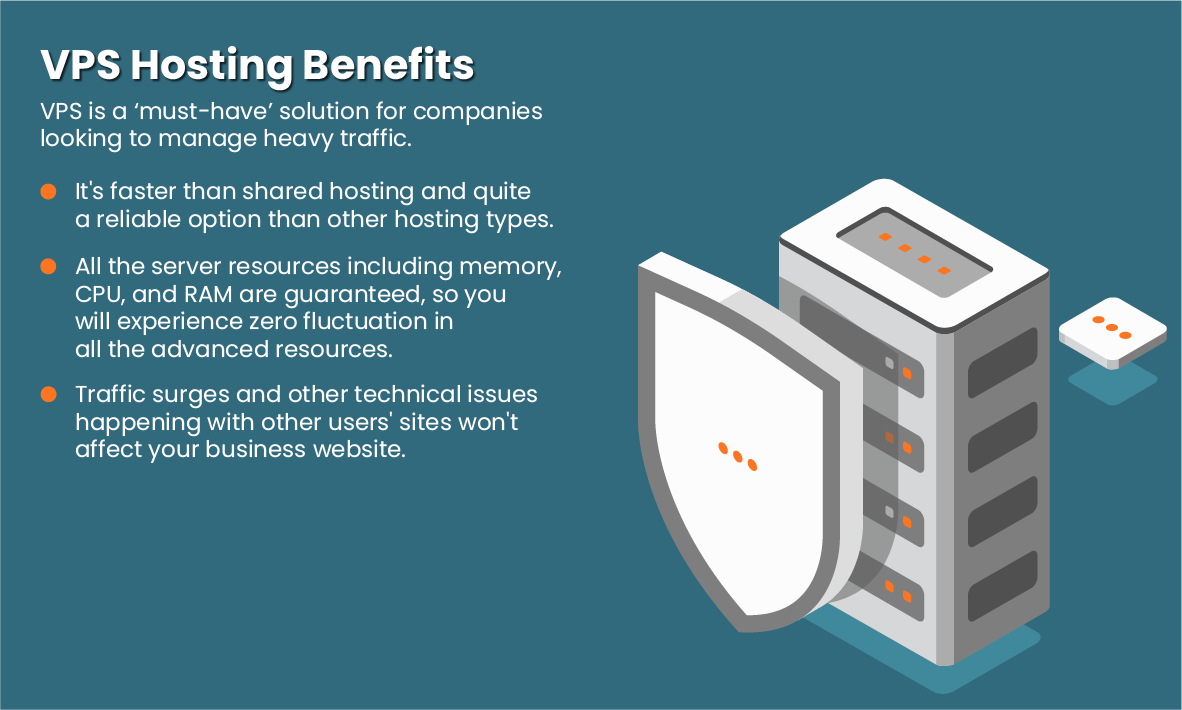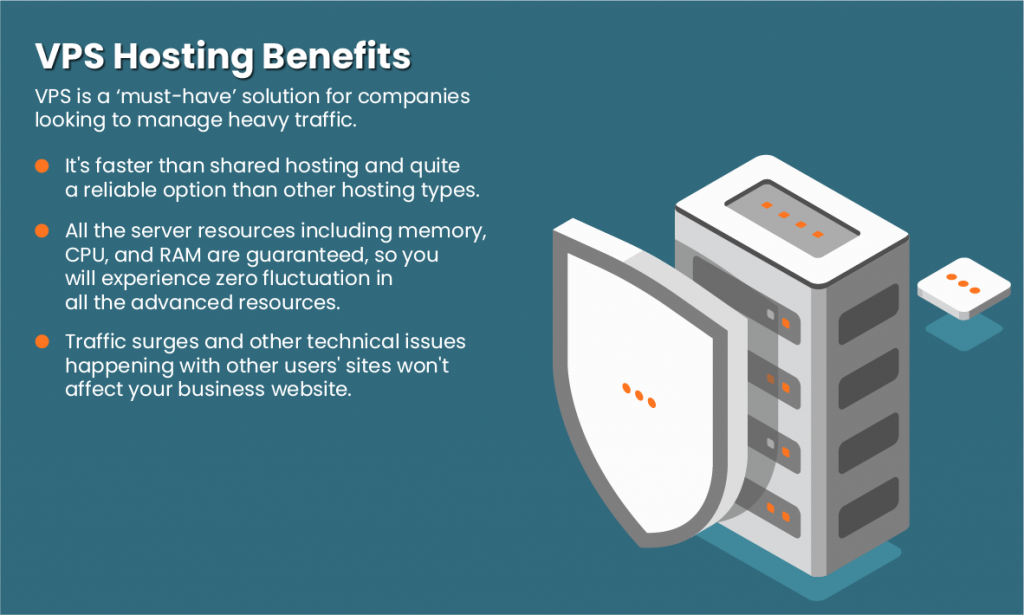 With the help of innovative virtualization technology, all the hosting services providers choose to download a virtual layer on your server's operating system. Now, this layer will simply divide your server into various kinds of partitions and enable every user to download their own specific software and operating system.
Moreover, your VPS server is both private as well as a virtual machine, because a user will have complete control over its management. It would be mainly separated from other users on the operating system level. This advanced technology is a bit similar to building several partitions on the computer especially when you need to launch more than one, like Linux or Windows operating system.
When you are running a VPS, it would help you set up the site within some secure container with different unique resources including RAM, memory, disk space, and others. And you don't need to share these components with other users using the same server. By considering VPS hosting, you will have great root-level access just like a dedicated server, but at comparatively low rates. Especially when you make VPS hosting comparison with dedicated or Windows hosting, you will find a great difference in features, specs, and prices.
When to use virtual server hosting?
So if you are observing that your website is growing and getting huge traffic day by day, then choosing VPS hosting must be your next step. Because your website is exceeding the resource limits of a shared solution, so you must rely on the service that offers more benefits and features. Therefore, the VPS hosting cheap looks like a great and affordable solution which is good enough to run your business site efficiently & smoothly. Companies offer a variety of hosting plans that are suitable for every size of business. Usually, VPS hosting offers you two best options, such as shared and dedicated hosting.
There are multiple cases when choosing a VPS solution looks like a great option from the beginning. For instance, e-commerce stores should always need to ensure secure methods of payments with an ultra-fast & stable environment. These kinds of shopping sites can get amazing benefits from a virtual private server. Especially if you are dealing with any sensitive kind of data solutions where you have to manage huge online payments then VPS can simply help you reduce great levels of security breach risks as well as identity theft.
VPS hosting benefits:
VPS is a 'must-have' solution for companies looking to manage heavy traffic. There are a lot of benefits of VPS hosting, we have highlighted some important ones so you can easily analyze according to your business needs.
It's faster than shared hosting and quite a reliable option than other hosting types.
All the server resources including memory, CPU, and RAM are guaranteed, so you will experience zero fluctuation in all the advanced resources.
Traffic surges and other technical issues happening with other users' sites won't affect your business website.
You will get complete root access to managing your server.
You can enjoy better privacy because all the information and databases will be locked and secured from other users of the server.
VPS is an easily scalable solution as compared to others. Especially when your website grows, it's possible to upgrade all the resources of your server such as disk space, RAM, bandwidth, CPS, etc.
Conclusion:
Virtual server hosting is one of the ideal solutions for medium-scale business owners. You can simply get easy access to multiple guaranteed resources as well as enjoy complete control without getting the stress of managing your own server. It looks like a desirable solution for normal to high traffic sites, and best for resource-heavy and online shopping websites. However, many companies expect instant development and invest heavily in different components. These companies can benefit from the extreme reliability and scalability of the VPS solution. Therefore, if you are looking for some flexible solution and want some business-oriented hosting environment at affordable pricing, then this option is worth considering for your business site.
I hope this detailed guide has helped you learn and understand about VPS hosting solutions. But if you still have any confusion, you can consult with the email shop professionals and see how they can help you manage your site effectively in a short time. You can also check out their knowledge base and look for the technical answers and inquiries that create problems in managing things smoothly.