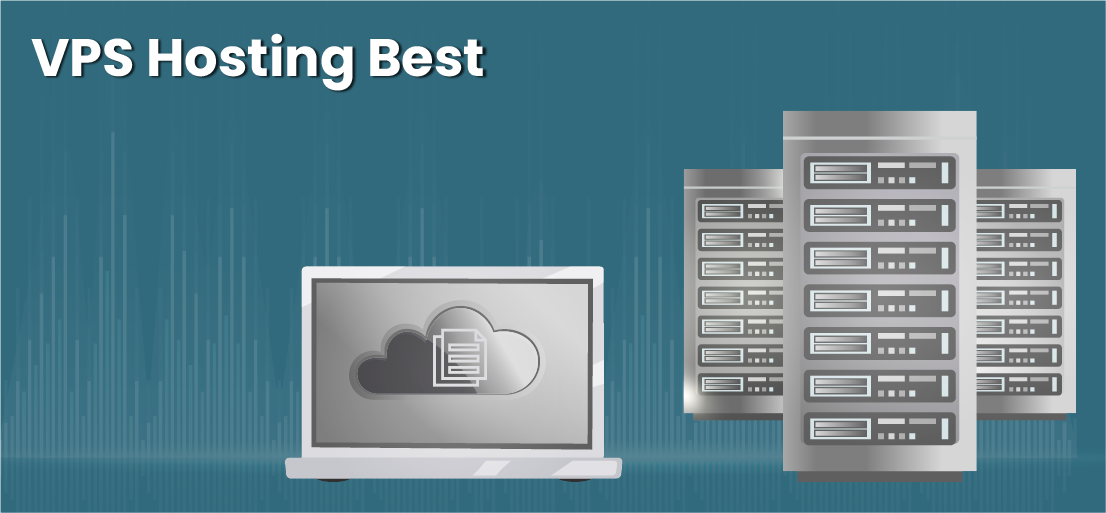 10 Dec

VPS Hosting Best Usage | Right Fit for Your Needs
What is a good VPS? VPS Hosting Best & Cheapest Rates
VPS stands for Virtual Private Server, one of the different types of web hosting services whereby a web system can host its files, content, and database in virtual servers to be accessed by authorized users worldwide.
If you ever run a web system or even a blog or a website, you might already know that web hosting is an integral part of running a website. Your website needs to be accessed by other online users, and so you house your web system in an online web hosting service that makes it available to other users worldwide.
There are different web hosting types; however, the most common ones are shared, VPS, and dedicated web hosting services. Shared web hosting is excellent for small blogs and websites that aren't observing much traffic, and on the other hand, dedicated web hosting is best for websites and businesses that are facing a lot of traffic each day. VPS web hosting lies in between shared and dedicated web hosting,  The Email Shop hosting services are among the most renowned web hosting services in the market, and we also provide one of the VPS hosting best services in the market.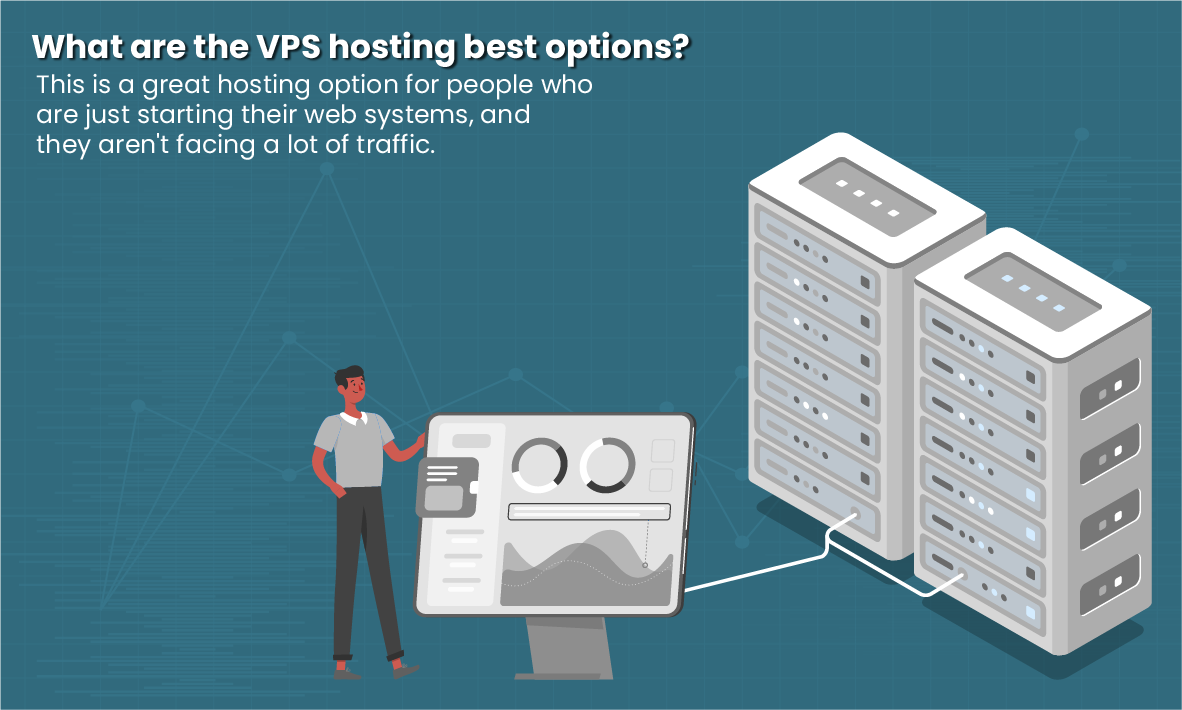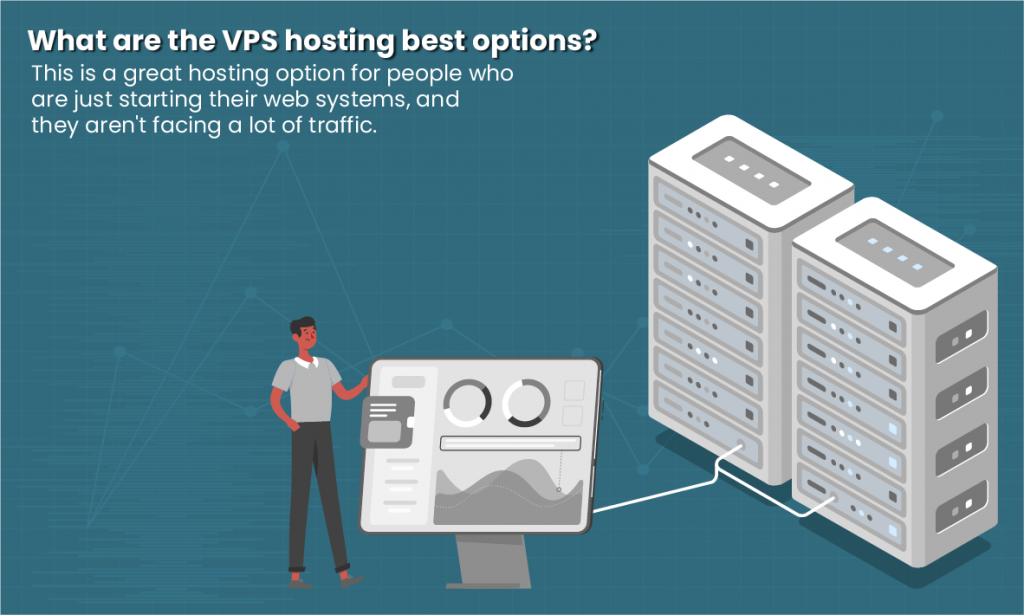 What are the VPS hosting best options?
As mentioned previously, VPS web hosting lies somewhere between the shared web hosting services and dedicated web hosting services, and they are also a great and sometimes pretty much the only option for a specific user base. In shared web hosting, a server's available resources (Memory, RAM, bandwidth, etc.) are allocated to multiple user's web systems.
There can be hundreds of web systems and websites that might be utilizing the resources of a single shared web server, much like many people drinking from the same well. This is a great hosting option for people who are just starting their web systems, and they aren't facing a lot of traffic. However, after some time, you will most definitely see an increment in your web traffic, which means that your web system's resource allocation will not be enough to accommodate that traffic increment. Hence, you will need to upgrade your web hosting service. There are a few indicators that might point out the need for upgrading your web hosting:
Suppose you see a slowed down website speed and have tried everything such as optimizing the image-heavy content, installing a cache plugin, etc. In that case, this is a good indicator that you need to upgrade your web hosting to resolve this issue. The slowing down of website or page loading speed occurs when your web traffic has increased, and you don't have enough resources to manage it. VPS hosting allows you to manage traffic by providing resources reserved privately for your web systems.
Additionally, suppose you're facing more and more incoming security threats. In that case, this is an excellent indicator that your website is getting ranked in search engines, and it is getting in the sights of attackers. A good indicator is the increased frequency of unauthorized login attempts into your WordPress dashboard. In shared web hosting, you are using the resources that other websites are using. Still, in VPS web hosting, a server's resources are allocated privately to your web systems, so your website's security is reinforced.
Lastly, suppose you are facing more and more website downtimes, internal server errors, and crashes. In that case, this is generally a good indicator that your website traffic has increased, and your current web hosting service is unable to accommodate that increased web traffic. If you see such server issues, then it is an indicator that you need to upgrade your website web hosting to VPS or beyond.
VPS hosting has a lot of advantages over shared web hosting. You get your private resource allocation, more control and independence over the resources, and more security to your data. It also has an advantage over dedicated web hosting as it provides you a restricted private resource allocation at a much lower cost. However, there will be a time when you will have to upgrade to dedicated web hosting services.
VPS hosting best types:
Windows web hosting is among the most user-friendly web hosting types globally, and VPS is not an exception. The fact of the matter is that Windows' operating system is familiar to many users worldwide, and most people know the interfaces quite well. Windows VPS runs on Microsoft Windows Operating System, making it super easy to configure and manage these servers. Additionally, Microsoft also has Microsoft Server Management Tools that help out with server management and configurations.
On the other hand, Windows web hosting costs a bit more if you look at the overall costs since you will need to buy Microsoft Windows' operating system and tool's licenses.
On the flip side, the Linux VPS web hosting is one of the most flexible, reliable, and secure web hosting services in the market. Linux is an open-source operating system, making it one of the cheapest VPS hosting options in the market. Because of the open-source operating system, it is not easy, and in fact, it is tough for viruses and malware to break into it. However, you will need to have advanced technical knowledge as Linux is popular among technical users.
Since Linux requires a lot of technical knowledge to handle, it might not be the best option for many people.
Why choose our VPS services?
For the past 15 years,  The Email Hosting has provided its users the web hosting facilities with our reliable and cheap services. The Email Hosting VPS provides the VPS hosting Best Services in the market, especially if you look at the best VPS hosting UK services. We have the most budget-friendly and the best performance web hosting packages with our VPS packages start from € 2.39 per month for 12 months, making it the cheapest VPS hosting plan in the market. We also have the best windows VPS hosting packages with our reputation from ever since 2005, and we are one of the most renowned Linux best VPS hosting forums thanks to the usability we provide. All in all, we provide one of the reliable, SSD-powered, cheap VPS hosting best services in the market; check out our plans.